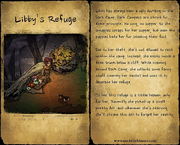 Libby's Refuge is a place near Dark Camp in the world of Mad World.
Lore
[
]
"Libby has always been a ugly duckling in the Dark Camp. Dark Campers are strict to their principle: No song, no supper. So she smuggles scraps for her supper, but even the puppies hate her for stealing their food.
"Due to her theft, she's not allowed to rest within the camp. Instead, she rests inside a tree trunk below a cliff. While roaming around Dark Camp, she collects some fancy stuff (merely her taste) and uses it to decorate her refuge.
"To her this refuge is a little heaven, only for her. Recently she picked up a small pretty doll, and whenever she's starving, she'll stroke this doll to forget her reality."